TEL AVIV
Tel Aviv
(meaning 'Hill of Spring' in Hebrew) has an air of perpetual renewal. There is always something new and vibrant in this city. Whether a new restaurant or store opening, a party happening somewhere or beautiful flowers and greenery blooming.
I have made a very short visit to Tel Aviv. Just a day an half, and absolutely fell in love with what has been shown to me within such a short period of time. Tel Aviv has everything for a curious mind, sun chasers, lovers of good food and drinks, antique hunters, architecture lovers, or nightlife owls. With so many distinct neighborhoods, Tel Aviv is a definitely place for everyone to find its own corner and gem of the city.
Tel Aviv
is a city on
Israel's
Mediterranean coast, marked by 1930s UNESCO's recognized Bauhaus buildings clustered in the White City architectural area. Tel Aviv was founded in 1909 as a Jewish garden suburb of the ancient Mediterranean port of Jaffa (now Yafo), with which it was joined in 1950. By the beginning of the 21st century, the modern city of Tel Aviv had developed into a major economic and cultural center as we know it now. There is always something new to explore and do for everyone.
What to do and see?
Tel Aviv beaches and Tel Aviv-Jaffa Promenade
What can be more perfect than a nearby stretch of sandy beaches in the city? Deciding to go to the beach is the easy part. Deciding on which beach to drop towel is substantially harder. There are several smaller beaches connected together on the coast of Tel Aviv. With the vibrant beach sport, coffee shops, and beach bars, it is a great place for tourists and locals to come and enjoy their days off on a sunny day. You'll find the famous Tel Aviv statue as well as the massive beach chairs in here, so take your phone or camera with you to take a snap. Visit Hilton Beach, Jerusalem Beach, Gordon Beach, Bograshov Beach or Frishman Beach to name a few.
Carmel Market
The Carmel Market (the Shuk Hacarmel) is the largest market, or shuk, in Tel Aviv. A vibrant marketplace where traders sell everything from clothing, spices, electronics, souvenirs to food. The Carmel Market first opened in 1920, some eleven years after the establishment of the city, making it an integral part of the history of Tel Aviv. Whilst much of the trade has now shifted into modern malls and onto the internet, the market is still immensely popular and its narrow street is busy whenever you visit, particularly before Shabbat on Thursdays and Fridays, as residents buy supplies for their family meals. It is a place for farmers and traders to come to tell fresh vegetables, fruits, and other kinds of food. It is definitely a recommended place to visit, especially here you can find cheap food to go or souvenirs home.
Yarkon Park
You can consider Yarkon Park to a Central Park in New York. It is a large park in Tel Aviv, named after the Yarkon river which flows through it. It is a great greenery space for some outdoor sports activities or just a walk with the view of the city in the background. The park has many interesting features for visitors, such as extensive lawns, sport facilities, botanical gardens, Tel Aviv's largest water park, lakes, outdoor concert venues, Rock or Tropical gardens.
Old Jaffa and Port of Jaffa
The Old City of Jaffa is a historical part of the Israeli city of Jaffa, or what is now part of Tel Aviv. It is a walkable neighborhood filled with many art and craft galleries, antiques and jewelry shops, restaurants, lively Jaffa Flea Market, vibrant nightlife as well as the Suspended orange Street art work. It is the main tourist attraction of Tel Aviv, and definitely worth to stroll around the winding alleys of the Old City. Other Ottoman-era landmarks in Old Jaffa include the Clock Tower, St. Peter's Church, and
Illana Goor Museum
showcasing Israeli and international art.
Ha Pisga Garden
Ha Pisga Garden is a garden on a hill connecting you to the Old Jaffa. The park has a panoramic view of the Tel Aviv seafront as its backdrop. At the top of the hill, you may find a small amphitheater in the centre of the park where it is being used for free music concerts every Saturday in July and August after 9pm. The bizarre white neo-Mayan sculpture on one of the hills depicts the fall of Jericho, Isaac's sacrifice and Jacob's dream. Between the gardens and Old Jaffa, you will be crossing through a wooden bridge called "Wishing bridge". If you feel lucky, touch your zodiac sign on the rail, look towards the sea and make a wish; it may come true.
Jaffa Flea Market
An eclectic mix of stalls can be found in Jaffa Flea Market. It may seem very busy and messy, but here you can find literally anything through the array of treasure, junk, and daily basics. From Persian tiles, jewellery, old jeans, furniture, interior design products to genuine antiques, woodcrafts and more. It is a great experience and you never know what you can find and bargain for here. Spread over number of streets around the Clock Tower, the flea market is full of boutiques, laid back cafes, pop up bars and it is vibrant both during the day and at night with many restaurants and bars open.
Note that apart from bars, cafes and restaurants, stalls and shops are closed on Saturdays. Friday is the main market day and it is open every day from 9am to 6pm.
Tel Aviv museum of art
The Tel Aviv museum of art
is located in the city center, and it houses a comprehensive collection of classical and contemporary art. Mainly Israeli art, but you may find some exhibitions and section hosting international artists. The regular adult entrance fee is 50 Shekel, and can be purchased on the day. The beautiful Hera and Paul Amir building is a new wing with stunning architecture from outside and it houses 5 floors of gallery space. Do you know that this museum has hosted the Eurovision Song Contest 2019 semi-final allocation draw?
Allenby street
Nearby Carmel market, make sure to walk on Allenby street. It is a major street in Tel Aviv named in honor of Field Marshal Viscount Allenby. The long street stretches from the Mediterranean Sea up to the city center, and it is filled with some old and random shops that have been here for decades to some newer ones. During the day, it is a commercial street with many small businesses and during the night this street turns into a vibrant nightlife place with clubs, restaurants, or pubs open for people. You can also see many significant buildings on the street, such as the 1925 Lederberh house at the intersection of Rothschild Boulevard and Allenby, features a series of large ceramic murals designed by Ze'ev Raban of the Bezalel school.
Bauhaus architecture
Tel Aviv has Unesco's famous Bauhaus architectural buildings, there are over 4000 buildings constructed between 1920 and 1940 by German-Jewish architects who immigrated to the region after the rise of the Nazis. Bauhaus architecture is scattered around the city, but the known neighborhood for this is called The White City. The White City Center hosts exhibitions where visitors can learn more about this iconic style.
The Bauhaus Center
is also worth a visit for exhibitions about Bauhaus architecture style, and it hosts weekly guided tours on Fridays for a small fee where you can further understand the unparalleled architecture and urban landscape of Tel Aviv.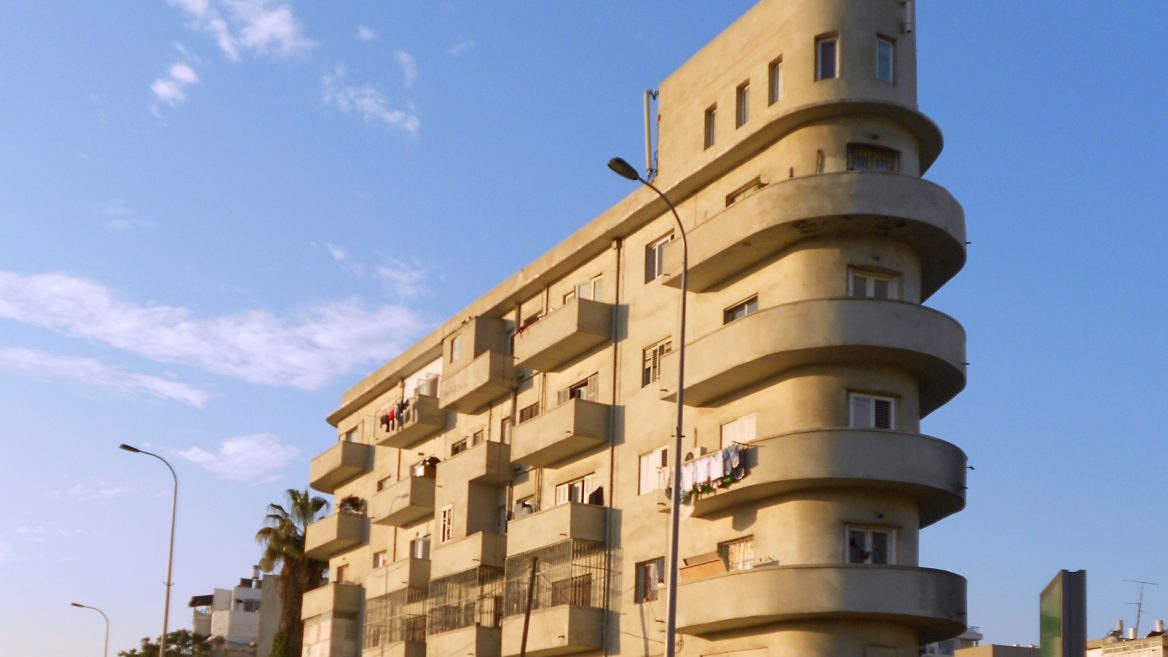 Florentin street art
Tel Aviv's multicultural and bohemian neighborhood, Florentin offers the casual stroller for vintage boutiques, artisanal workshops, or cozy coffee shops. Absolutely love how each neighborhood of Tel Aviv offers different perspective and vibe. This neighborhood I would compare it to Shoreditch in London. You can find many interesting boutiques of small businesses and artists, as well as amazing street art. Florentin is a neighborhood in the southern part of Tel Aviv, Israel, named for David Florentin, a Greek Jew who purchased the land in the late 1920s. The development of the area was spurred by its proximity to the Jaffa–Jerusalem railway. You can join a Street Art tour around this neighborhood or have some time to stroll yourself.
Neve Tzedek
Built in 1887, Neve Tzedek was the first Jewish neighborhood outside of the old port city of Jaffa, built as a suburb. Currently, artsy Neve Tzedek has avant-garde design stores, fashion boutiques and handicraft shops, as well as a weekly farmers' market in HaTachana, a restored railway station. Trendy European restaurants sit alongside stylish bistros, and many of the area's al fresco cafes turn into live jazz bars and cocktail lounges at night. The
Suzanne Dellal Center
showcases contemporary dance, while surfers head to beaches nearby. Neve Tzedek is located near to Florentin neighborhood and
HaTachana
, Tel Aviv's Old Railway station is a short stroll from here too.
Where to eat and drink?
Santa Katarina
- A modern Israeli restaurant with creative cocktails and a daily changing menu of delicious shared plates.
Port Said
- A trendy, hipster Middle-Eastern gastro-bar run by controversial Israeli celebrity chef Eyal Shani.
The Prince
- Located in the center of Tel Aviv near the Carmel market, this offbeat hangout bar with nice open air (in the summer) roof balcony, comfort food, drinks, Happy Hour & DJs.
Ha Basta
- Ha Basta, Hebrew for a market stall is located in a side street next to the busy Carmel market in Tel Aviv . It takes pride in a varied menu depending on fresh produce . A great place to try creative and well-executed food straight from the open-air shuk.
Raisa
- Global bistro plates & cocktails served in a hip, industrial-style setting with outdoor seating near Old Jaffa Market.
Beit Kandinof
- Locate din Old Jaffa, this beautiful women-led restaurant offers a serene, old-fashioned eatery & art gallery with light local fare & a warm, convivial vibe.
Where to stay
The Levee (£££)
The Levee is a palatial 1913 villa turned ultra-contemporary 8 apartment property in southwest of Tel Aviv. This boutique aparthotel is located on the edge of Neve Tzedek, walkable proximity from the beaches and Old Jaffa. Absolutely love the modern interior design of each apartment, The Levee has also a garden and a sun terrace for guests.
Source: Booking.com
The Drisco (£££)
The Drisco Hotel Jaffa (on Tel Aviv's outskirts), is a luxurious 5 stars hotel which preserves history while offering the highest standards of hospitality set by LHW. The stunning luxury hotel with art deco interior design is situated in the American Colony, a small but standout area with New England-style residences of the late 1800s,
The Ritz Cartlon, Herzliya (£££)
The stunning waterfront hotel
Ritz Carlton in Herzliya
, Israel is a perfect place for couples and families to spend their days in Israel. Located just a few minutes on a bus to Tel Aviv city center, the hotel provides close proximity to the port, beach, dining scene, and other activities around and within the hotel. We have stayed few nights here and had amazing views on the Meditteranean coastline of Israel. Apart from stunning room views, you will also find a rooftop pool in the hotel.
The Poli House (££)
The Poli House design boutique hotel in Tel Aviv is the embodiment of the urban eccentricities, diversity and personalities that shape the city's eclectic culture and design. The hotel offers a laid-back luxurious stay in the heart of Tel Aviv, with great access to local attractions, including Carmel Market, restaurants, bars and nightlife. Apart from the attractions nearby the hotel, The Poli House has also a rooftop pool overlooking the city in the background.
Source: Booking.com
Margosa Hotel (££)
Just 550 yards from Jaffa Port, Old Jaffa and Flea Market, the Margosa Hotel Tel Aviv Jaffa is located in Tel Aviv. With the exposed bathroom in the modern hotel rooms, this hotel offers guests a balcony with city views.
Airbnb
(£-£££)
Apart from very unique boutique hotels that you may find in Tel Aviv, you can always opt-in for
Airbnb
stays. Here, you can find wide scale of rooms or apartments for yourself. Some of them can offer you a great central location, or some of them can offer you stunning terrace views. Definitely worth to compare and check them out to find the best suitable for you.
10 things you need to know before traveling
1. Most Israeli plugs have the 3 flat pins, but almost all Israeli sockets can be used either with this 3 flat pin plug OR with a
European 2-pin plug
(round pins).
2. The
weekend in Israel is Friday and Saturday
. Their Saturday's is what they call
Shabbat
, a holy day. Therefore all shops, markets, restaurants and even transport are closed. You may find some restaurants open during the afternoon though. Tel Aviv may be a bit laid back with this, but if you would be traveling to Jerusalem, to a Holy city, you may be struggling to find a place to eat or get around. Therefore plan things around or shop beforehand. Israeli people do respect their rest day and so should you.
3. Their
currency is Shekel
, so make sure to change your money at the airport or you are able to use card machine pretty much everywhere here.
4. Tel Aviv and overall Israel is
not cheap country
. It is an expensive place for staying, dining and entertainment. Therefore make sure to set your budget high. However, you are able to find more reasonably affordable places to dine and shop, such as markets, or stay at the hotels where breakfasts are included or try to stay in the center to walk more around.
5. Be prepared to be
strictly interviewed at the airport.
Israel borders are quite strict with their tourists, so be prepared will all addresses where you will be staying, itinerary and even a ticket going out of the country. They'll ask you standard questions like what are you doing here, for how long are you here etc. but also some personal and somewhat strange questions like what is your relationship with the person you are traveling to, how do we know each other, how long have we been together, have we every visited UAE, why did we go there etc.
Unlike other countries, they won't give you a stamp or a sticker to your passport. You will receive a
small blue paper, which is your visa to Israel
. Make sure to keep this in your passport safely, as you will need it when you will go out of the country.
6. Pack
modest clothing
with you. Even though Tel Aviv is very mixed culture, and you may not necessarily need modest clothes here, but if you travel outside of Tel Aviv, such as to Jerusalem, you will need it. So make sure you have long pants, long dresses or skirts, or a scarf to cover yourself when needed.
7. Israel is a quite small country, so to travel from one end of the country to the other doesn't take long. This means that taking a day-trip or 2 days-trip is very easy and you can manage to see quite a lot. Also, walking is a good idea in most cities. We have taken a
405 bus to Jerusalem, which took just under an hour
. We have bought tickets on the day from the ticket machine at the bus station, and you have buses running very frequently. Check their schedule before planning your day. In addition, you can travel by train around the country, including to Jerusalem as well.
8. Most restaurants will offer you
"Kosher" food
. It means that they are following their religious rules and it is in a way what Halal is to Muslims. Food that is Kosher would mean that the animal was killed in the most painless way possible according to Jewish law.
9. Israel is a
safe place to travel
. Whether you are traveling only with a female friend or group of friends, as long as you stick to general human instincts, Israel is a safe place to travel for anybody.
10. Make sure to
download Gett app
in case you need to get a taxi around Tel Aviv. Gett
app
also works in Jerusalem. Apart from that, you can easily g
et around by public buses, bicycles and scooters
which are very popular in Tel Aviv.