BRNO
Not so many people know about Brno, but in fact, Brno is the second largest city in the
Czech Republic
and it is the sister of Prague. Brno is becoming popular among international students and foreigners, because of it's hidden beauty and calmness. If you are looking for less overcrowded place and yet beautiful Czech city, Brno is just 2.5h by bus or train from
Prague
.
In fact, Brno is located in Moravian region of Czech republic, and it is well connected by other major cities, like Bratislava or Vienna. Therefore, it makes it easy for people to hop on a bus or train to travel for a day abroad. Located at the confluence of the Svitava and Svratka rivers. Do you know that Brno hosts motorbike races on the Masaryk Circuit from 1930, in which the Grand Prix is one of the most prestigious race? Or that every year in June it hosts an international competition Ignis Brunensis? read more to see what else is to do and see in this city. Before travelling there, you may want to get
Brno pass
for a day or two, which will allow you an access to multiple attractions for less money.
Things to do and see
1. Spilberk castle
Spilberk
castle is a castle on the hilltop in Brno, not too far from the city center. It is a dominant building of Brno, and even though it may not seem so impressive on a first sight, its construction began from 13th century by the Premyslid kings and completed by King Ottokar II of Bohemia. Over the period of time, the purpose of Spilberk castle has changed so many times. From a major royal castle and seat of the Moravian margraves to baroque fortress, the heaviest prison in the Austro-Hungarian empire. Today, it is open to a public as a museum and significant cultural site in Brno.
2. Villa Tugendhat
Villa Tugendhat
is a wealthy historial building in the neigborhood of Cerna Pole in Brno. It was designed by the German architects Ludwig Mies van der Rohe and Lilly Reich. The house was built in 1928-1930 for Fritz Tugendhat and his wife Greta, and the villa soon became an icon of modern architecture. The villa is under UNESCO World Heritage and is opened to public from Tuesdays to Sundays. However, tickets are sold weeks and months in advance, so make sure to check and book your tickets soon.
3. Cathedral fo St. Peter and Paul
The Cathedral is located on teh Petrov hill in teh city center, and alongside Spilberk castle it is one of icon of Brno. It is one of the most important pieces of architecture in South Moravia. The 14th century baroque style cathedral is 84m high with gothic towers. You can climb the towers for amazing views of Brno.
Do you know that the cathedral symbol is part of 10 Czk currency? Check it when you get one!
4. Old Town Hall
Walking though the city center, you should not miss a visit into city's medieval
Old Town Hall
, parts of which date back to the 13th century. Not only that the tourist office is located here, but also unique history of a city Brno, which includes the crocodile hanging from the ceiling (known as Brno "dragon"), a wooden wheel or twisted ornament on the front of a tower. You may also climb the tower for some city views.
Today, the Old Town Hall serves mainly cultural purposes, as it houses a gallery, an information centre, and a permanent exhibition on its history. The Old Town Hall served its original purpose until 1935 when the authorities moved to Nová radnice (the New Town Hall) located at Dominikánské náměstí (Dominican Square).
5. Liberty square & Brno astronomical clock
Liberty square is the main square of Brno in the city center. The square is packed with dining scene, shops and markets during festive seasons, like Easter and Christmas would be held in here. Make sure to admire the beautiful detailed buildings around and also you wouldn't miss the strange astronomical clock located on the square.
This new clock, built not too long ago is a black stone monument proposed by Oldrich Rujbr and Petr Kamenik. Every day at 11:00 it releases a glass marble, which the spectators can catch from one of four openings in the monument and they can take it with them as a souvenir. Although the monument is publicly known as an astronomical clock, it is only a clock.
6. Veveri castle & Brno dam/reservoir
Veveri castle is located about 12km from the city center, easily accessible by a car or public transport. It is one of the largest and oldest castles not only in Moravia, but also in the entire Czech Republic. According to legend, the castle Veveří ("squirrel" in Czech) was founded by Přemyslid Duke Conrad of Brno in the middle of the 11th century, as a hunting lodge.
Veveri castle is located on a rocky hill towering over the Svratka river near Brno dam. In fact, you should take a ride on a boat from the dam at Bistrc neighbourhood to get to the castle. You will enjoy the beautiful ride in the nature and totally forget that you are in Brno for a moment. It is best viewed from the boats that regularly cruise the river below it ferrying passengers around the river and around the reservoir.
7. Church of St. James and ossuary
After Paris, Brno has the second-largest
ossuary
in Europe. Easily missed attraction, but it is located next to the Church of St James at St James square. As like any churches, it has a churchyard which was quickly filled in. The remnants from the original graves were moved to special underground areas, called ossuaries.
8. Moravian museum
Moravian museum
is the second largest and the second oldest museum in the Czech Republic, located on the Cabbage Market in the city center. The museum was founded in July 1817 in Brno. Its collections include over 6 million objects from many fields of science and culture.
9. Moravian gallery & Governor's Palace
Moravian gallery
is in a beautiful baroque palace on Moravian square emerged from a previous Augustinian monastery from the 14th century. The monastery was later elevated to an abbey. In 1783, however, the Augustinian order was dissolved by the reforms of Emperor Joseph II, the monks left, and authorities were moved into the vacated palace. After World War II it housed (until 1989) the Museum of the Brno Labor Movement, and now it serves as the Moravian Gallery (permanent exhibition of Gothic art, drawings, graphics, etc.)
10. The Cabbage Market/Vegetable market
A market in the city center where you can find daily stalls with fresh vegetables, fruits, flowers and much more. It is open daily from morning till late afternoon. However, I recommend you coming in the morning or early lunch time hours, as it is when it's busy and full of stock. Sellers tends to leave soon once they sold out. It is a vibrant place where you can just scroll around and buy fresh things.
11. Labyrinth under Cabbage/Vegetable Market
Just 212 steps down to the
labyrinth
located under the Cabbage or so called Vegetable market. The underground tunnels are about 6-8m below the square and was built for two purposes: to store goods and to hide in during wars. The tour also visits an alchemist's laboratory and recalls the doctors, pharmacists, and physicists who lived in Brno and made the city famous throughout Europe.
12. Petrov
Petrov is a hill area under the Cathedral of St. Peter and Paul. The area is popular during summer times, as a lot of locals and students tend to chill hill. It is a perfect spot for picnic or sunset watching. Around this area you will see also Denis gardens, little parks and various statues.
12. Capuchin crypt
The Capuchin crypt
in Brno is a funeral room for Capuchin friars. It was founded in 17th century in the basement of the Capuchin Monastery in the city center. Another easily missed attraction, the basement of a church hides mummified mummies from 17th and 18th century.
13. New town hall & Church of St. Michael
Just next to the New Town Hall, you will be able to see a pretty roman catholic church called Church of St. Michael. Built in around 1228 during margrave Premysl of Moravia, where later Moravian Assembly later held sessions there. The Chapel of the Holy Sepulchre at the southern wall of the church in Dominikánská Street is modelled after the chapel in the Church of the Holy Sepulchre in Jerusalem.
Lesser known places
First time travelling to a new city is always a tourist attraction checks. However, if you are spending more days in Brno or if it isn't your first visit, make sure to make a visit to some lesser known places around Brno.
1. Obora Holedna -
large forest place with a mini wild life zoo
2. Botanical Garden of the Faculty of Science - Masaryk University -
a small university botanical garden with a greenhouse
3. Marian valley -
large rocky hill nature part of the city in the East with lakes and views, great for walks in a nature or hiking
4. Anthropos Pavilion -
The museum is a part of the Moravské zemské muzeum. It focuses on exhibitions presenting the oldest history of Europe and mankind.
5. Nuclear shelter 10-Z -
The code name of the most highly classified nuclear fallout shelter in Brno from the Communist era (1959).
6. Brno Observatory and Planetarium -
The observatory with an interactive Exploratorium with extraterrestrial rocks & fossils.
7. Technical museum -
Technical museum with a collection spanning vehicles to electronic microscopes & music machines.
Source: Breclavsky Denik
Places for drink and eat
Brno has been nominated as a best place for bars in Czech republic, according to New York Times. And it is indeed growing place with vibrant evening atmosphere. Love coming back and discovering new places all the time. There are more and more international students and millennials with higher purchase power and they are driving the vibrancy of the city. Definitely try out some experiential bars, as well as local pubs for famous beers.
Bars
1. The bar that doesn't exist
2. Super panda circus
3. 4 pokoje
4. Aloha
5. Ice bar
6. Vycep na stojaka
7. Stopkova Plzeňská Pivnice
8. Crash bar
9. Pivni burza
10. Starobrno brewery
Source: superpandacircus.cz
Restaurants
11. Sunset restaurant (restaurant is beautiful view of historic centre and also panoramic view over whole Brno)
12. Soul bistro
13. U Tomana (brewery and Czech restaurant)
14. Borgo Agnese (high end Mediterranean restaurant)
15. Olomoucka 65 (Vietnamese market with few local authentic Vietnamese restaurants)
16. Cattani (Italian restaurant)
17. Potrefena Husa (Czech restaurant)
18. Restaurant Pavillon (Beautiful restaurant in the middle of a park)

Coffee shops
19. Rebelbean Vlnena
20. Skog Urban Hub
21. Cafe Momenta
22. Monogram Espresso Bar
23. Mymika
24. Sorry peceme jinak
25. Cafe Le Petit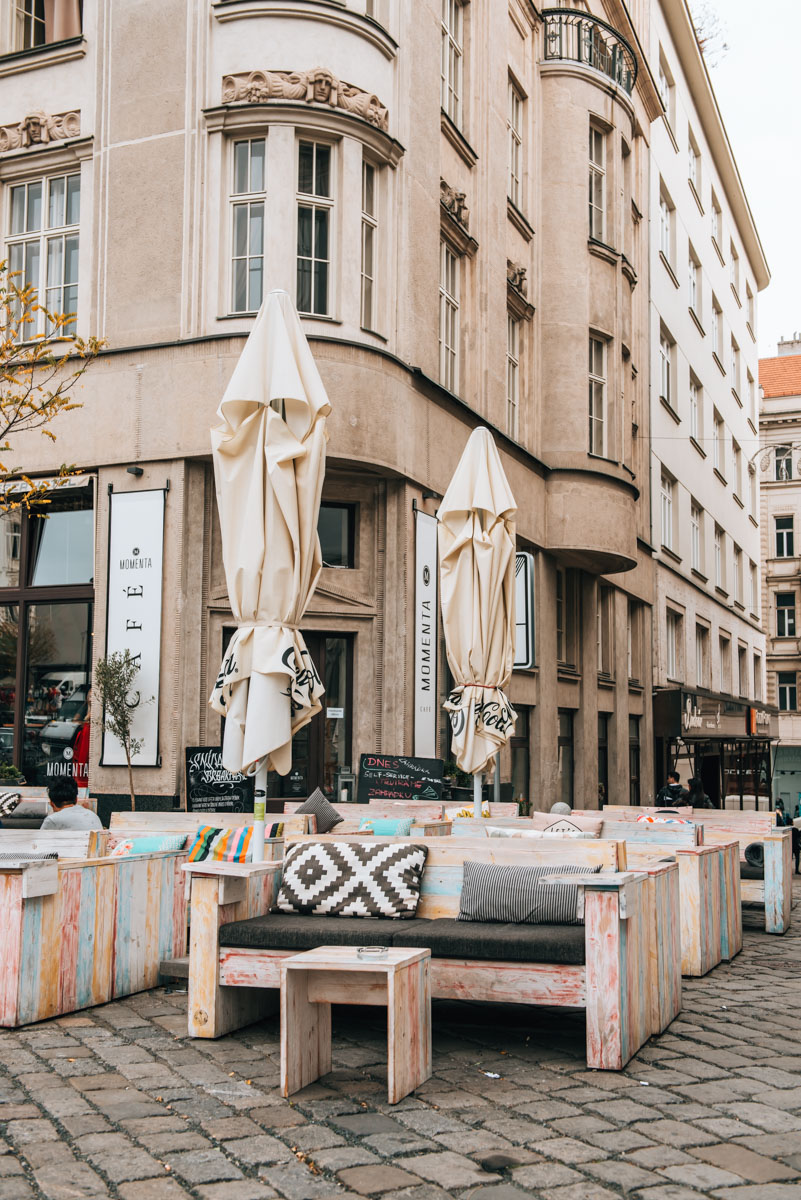 Source: sommertage.com
Where to stay
Choosing a hotel near the city center would be the best bet, as you will save a lot of time and money for transport. Since the city center is small and easily approachable by foot, look for hotels such as Hotel Barcelo Brno Palace, Grandhotel Brno, Intercontinetal hotel, Bestwestern hotel or Slavia hotel. In fact, there are many more hotels located in or around the city center. Make sure to use my link on
Hotels.com
or
Booking.com
to get some discounts on your booking. Alternatively, you can always check
Airbnb
for alternative places to stay.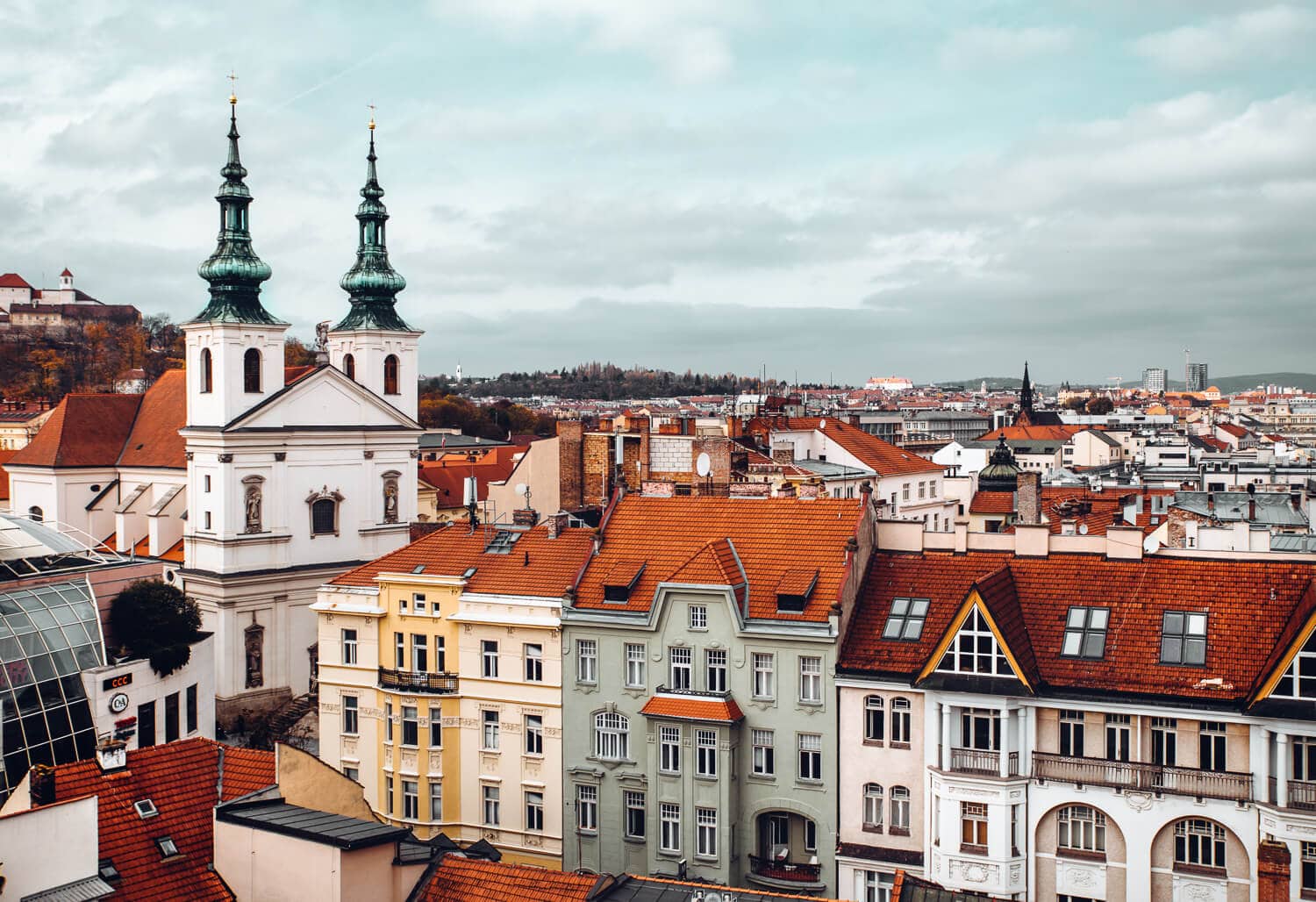 Source: hellojetlag.com
How to get around
Similar system to Prague, here you can get a ticket counted by minutes and hours, and you can use it to any public transport in the town (buses and trains). If you are planning to be hopping on buses and trams more often, then get 24h ticket for However, Brno doesn't have metro, so everything is connected by trams and buses in the city center and around.
The city center of Brno is fairly small and easily accessible by foot. In fact, there is only couple trams that run through the city center if needed, otherwise all transport would be going around it. You may purchase the tickets in ticket booths at the stations or in any newspaper agent or on your phone.